Florida Registered Agent
Mail Forwarding Service Florida
What is mail forwarding?
As a business owner, you may find it advantageous to have an address in a specific state to receive mail at, and then have that mail forwarded to you. This kind of service is called mail forwarding.
Here at Florida Registered Agent LLC, we offer a range of mail forwarding packages to fit your business needs. Each package includes the free use of our Florida business address on your company's public filings.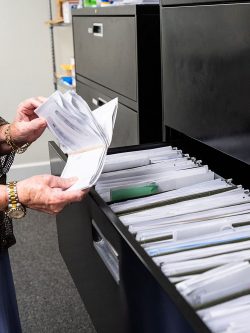 Here's how it works:
There are no extra fees or hidden fees. Our pricing is simple: You pay an annual fee for mail forwarding with the option to pay extra for any additional scans or forwarding. These mail forwarding packages were put together with the needs of small business owners in mind: low-cost, secure, and reliable.
Free Mail Forwarding
Basic Mail Forwarding
Premium Mail Forwarding
Florida Virtual Office
Business Address
✓
✓
✓
✓
Secure Online Account
✓
✓
✓
✓
Junk Mail Filtering
✓
✓
✓
✓
Same-Day Mail Scans
✓
✓
✓
✓
Phone Service
 60-Day Free Trial
 60-Day Free Trial
 60-Day Free Trial
✓
Unique Suite Number
✓
✓
✓
Office Lease
✓
Number of Scans
10
Mail Scans
+10 more
Mail Scans
+25 more
Mail Scans
UNLIMITED
Mail Scans
Meeting Room Access
Available to Rent
Price
FREE*
$49/year
$99/year
$19/month
* Free for registered agent clients.
As you can see, when you sign up for one of our Florida mail forwarding packages, you are provided with a Florida business address that you can have mail sent to. Once the mail arrives at that address, we will scan and upload it to your secure account.
And if you're looking to professionalize your business profile without being tied down renting out expensive office space, our $19/month Florida Virtual Office package can be your one-stop business solution!
What's the process?
Let's talk about what exactly happens when you hire Florida Registered Agent LLC to provide you with mail forwarding service.
Choose Your Florida Mail Forwarding Package

You sign up for your preferred mail forwarding package from our available options.

Confirmation

Instantly, we send you a confirmation/thank you email that contains all the information you need to get started using your unique Florida business address immediately. From this moment forward, this address is yours.

Same-Day Scanning of Your Mail

As soon as we receive mail on your behalf, depending on your mail forwarding package, we will open and scan the item to your online account and/or forward it directly to you.

Junk Mail Filtering

When we receive junk mail, we shred it. We don't bombard you with useless paper. Our local mail forwarding specialists are true experts at filtering your mail securely.

That's It!

If you reach your item limit, we will hold your mail until further notice.
Why is mail forwarding useful?
There are many reasons our clients may find mail forwarding useful in their enterprising endeavors. Many value the personal address protection that mail forwarding guarantees. Others like the privacy it provides for their clients, as well as themselves. This is what we do. We provide a business advantage that gives you the services you need to excel.
What is included in our mail forwarding services?
When you sign up for our registered agent service, you can use our Florida business address, but you also have the option to include mail forwarding. For an additional fee, you can select from various mail forwarding packages to find the one that works best for you.
Free Mail Forwarding with Registered Agent Service
$49 per year
10 Mail Scans
Unique Mailing Address at Our Commercial Office
Secure Online Account
Free 60-day Trial of Florida Phone Service
Premium
Mail Forwarding
$99 per year
25 Mail Scans
Unique Mailing Address at Our Commercial Office
Free 60-day Trial of Florida Phone Service
Secure Online Account
Comprehensive
Florida Virtual Office
$19 per month
Virtual Office with Unlimited Mail Scans

Unique Mailing Address at Our Commercial Office

Florida Phone Service & Office Lease

Secure Online Account
What to expect when you sign up for mail forwarding service through Florida Registered Agent LLC?
When you hire us to provide you business services, we make a promise: We vow to provide you with the best service possible.
In the business landscape, competition is fierce, and not being on your best game can mean life or death. When we pledge our services to you, we guarantee that we're going to do our best to strive for your achievement and success.
Reliability

We know the importance of reliability, especially when it comes to getting important information. Nothing is more nerve-wracking than not knowing where your mail is. With Florida Registered Agent Mail Forwarding service, that stress is nonexistent.

Daily Service

We provide a scan of your mail directly to you the day we receive it. Your time is important, and we're not trying to make you wait and guess when you'll get the information you need.

A Distinguishable Address

One of the highlights of mail forwarding is the ability to list a unique, respectable address. It's not a P.O. Box; it's our office, staffed with the best, to supply you with premium mail forwarding service.

Attention to Detail

We never forward junk mail. Each mail item is reviewed. If it's a waste of your time, we don't send it.

Florida Registered Agent Mail Forwarding: The Business Advantage

Hire Florida Registered Agent Mail Forwarding to give you the business advantage so you can give 100% to your business and live your best life.