Florida Registered Agent
Virtual Office Florida
What is a virtual office?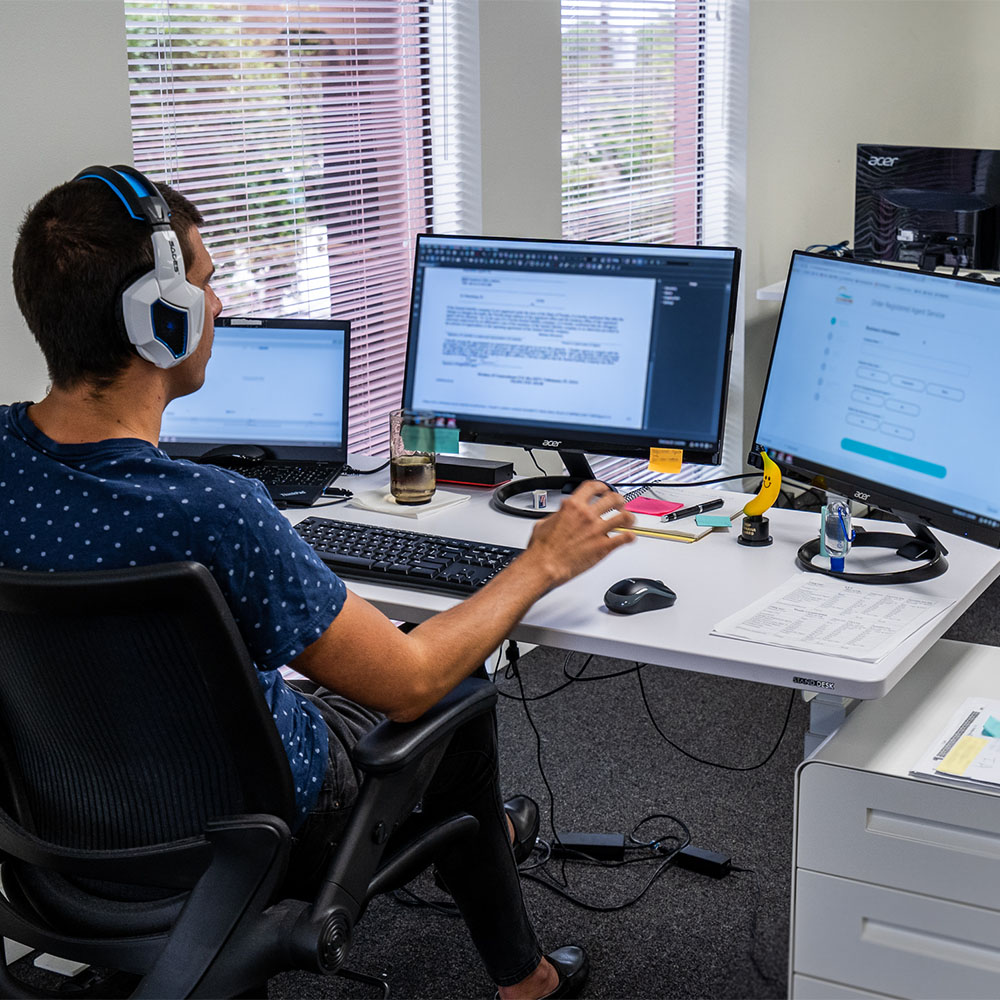 First things first, what exactly is a virtual office? Honestly, it's more simple than it sounds. A virtual office is a flexible workspace that provides necessary office services such as a local number, a legal lease, a physical area to meet, and a Florida business address for receiving mail.          
We know that each business has specific goals, and thus unique needs. So our virtual office services are divided into useful packages allowing you pick the option that works best for you and your budget.
Virtual Office Packages
We offer two virtual offices packages so you can get all of the services you need (and none of the ones you don't) for a fair price. Both options include the use of our Florida business address.
Just a Mailing Address
$148
Per Year
Unique Business Address
Secure Online Account
Mail Forwarding
On top of our standard registered agent service, you can add a unique mailing address for an additional $99 a year. This mailing address is located at our commercial office and isn't just a P.O. box. This package also includes 20 pieces of mail scanned and forwarded. For an additional $15 fee, we will send the actual mail to you.
Platinum Virtual Office
$500
Per Year
Unlimited opened and scanned mail

FL virtual phone service 

15 pieces of mail forwarded to you

A legal office lease
Our Platinum Virtual Office package is our most premium bundle of services. With this package, we provide unlimited opened and scanned mail, a lease, and virtual phone service. For $500 a year, this option is truly the best deal out there and perfect for those looking to do business in Florida.     
What should you expect from Florida Registered Agent LLC Platinum Virtual Office Service?
When you do business with Florida Registered Agent LLC, we bring to the table commitment. We are dedicated to making your life easier, by making it easier to run your business. Here's what you can expect when you hire Florida Registered Agent LLC to provide your virtual office service:
Florida Virtual Phone Service

When you have a Florida phone line, it comes with a Florida area code. This can help build business credibility when engaging with other businesses and your clients.

A Distinguishable Address

We provide you with a real Florida business address. Not a P.O. Box. Your business will be provided with a legitimate and reputable Florida business address that you can give to your to your clients and customers.

Mail Forwarding

Unlimited mail forwarding is included in our virtual office package. We open and scan all your mail to your secure online account for your convenient viewing.

Office Lease

When people see the word "lease," they immediately think locked-in commitment. That's not our purpose for including an office lease in our Plantinum Virtual Office Package. Our purpose is to give you sufficient proof and paperwork that you are located in Florida.

Shared Office Space

If you need to hold an annual meeting or need a private place to have a business meeting, you can reserve space in the building and use it as yours.

The Comprehensive Advantage

When you sign up for Florida Virtual Office Service, we provide the comprehensive advantage. Having a virtual office gives you a leg up on getting the things you need to get done. With several options to choose from, we give you the ability to meet the needs of your business more efficiently than our competitors. We call that the comprehensive advantage, and it can be the difference between make or break for your business.